It started out innocently enough back in early November. I wanted to use up the odd skeins of yarn, left over from scarf knitting, and practice my fledgling dpn skills. By the end of December I somehow had managed to knit 22 hats.
Here are my notes on some of the patterns that were worked during those 2 months.
*****
Inga
- The
Inga hat
was my first foray into stranded knitting. The pattern is so beautiful and intricate looking. I felt proud of myself upon finishing, but I don't think I would knit this hat again unless I was making it for someone else. I'm a beanie girl and the shape of the hat isn't my style. I do like that the hat taught me new techniques: the braided edge and stranding.
*****
Odessa
- I was excited to knit the
Odessa hat
from MagKnits, as it looked like such a simple, yet elegant design. I used size 5 and 7 needles for the cream version and only size 5 needles for the grey one. Oh, and no beads for me.
*****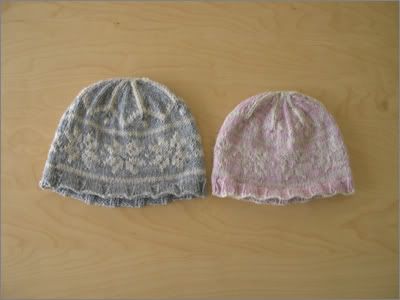 Snowflower
- After knitting the
Fake Isle hat
at MagKnits, I tried my hand at modifying a stranded knitting pattern. I switched out the lower pattern and made some changes to the upper pattern. The grey one is knit on size 7 needles and the pink one is knit on size 5s. I'll post my modified pattern in the next few weeks. (
Pattern now available
)
*****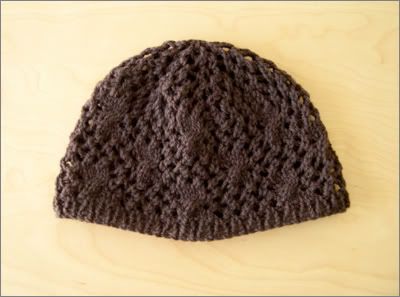 Santa Cruz
- Yup, another pattern from MagKnits.
Santa Cruz
is a cute pattern that involves lace and cables, similar in look to those lacy crocheted skull caps. I knit mine on size 10.5 needles and followed the directions for the worsted weight yarn, giving it even more of an "open" lace look.
*****
Baby Cables
- Using the pattern at KnitList for the
Baby Cable Ribbed Cap
as a base, I switched things up to turn it into a beanie. Basically, knit in 2x2 rib for 1 inch and then continue with the baby cable pattern until work measures 5-5.5 inches from cast on, then follow instructions for the decrease. Knit on size 10 needles. Baby cables look more impressive than a simple ribbed hat, but are really easy, and quick, since you don't need to slip stitches onto a cable needle or dpn.
*****
Shedir
- The
Shedir hat
(pdf link) from Knitty is the most involved pattern I think I have knit thus far. It was certainly worth it though. I ended up knitting four hats, two black and two natural, since the first two had some flaws and I wanted something as gorgeous as Shedir to be perfect. Well, the second natural colored one does have a small flaw (one small section in the crown went stockinette on me), but it isn't too bad. I would certainly knit this pattern again, especially since my dpn skills have improved since I completed these. I used size 5 needles, cast on 112 sts and only did two repeats of the lower "pretzel" pattern. The top looks a bit pointy when laid flat, but it fits, and looks, perfect when worn.
*****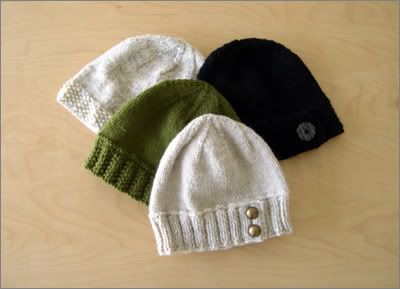 Button-Tabs
- After seeing a similar hat on the Banana Republic website, I decided I wanted to come up with my own Button-Tab hat. The hat is easily modifiable by just changing the stitch pattern of the brim and it's a good way to use up some of those spare buttons in your button jar. Pattern will be posted within the week. (
Pattern now available
)
*****
More pictures at Flickr