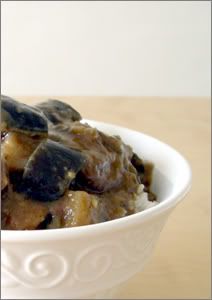 After the past week of grey, rainy weather (which I adore!), I was craving something hearty and satisfying for dinner. Beef & eggplant curry sounded like a winner, so I cooked some up last night. Not the prettiest colors, but very tasty, and even better the next day.
Trader Joe's Thai Red Curry Sauce is the key to this dish. It has a little bit of kick to it, so if you aren't at all into spicy hot, you may wish to use their yellow curry instead. It's milder and sweeter. Note that the red sauce does mellow out and lose most of its heat the next day.
And wouldn't you know it - the weather has turned sunny again.
Beef & Eggplant Curry
2 pounds beef pot/chuck roast, cut into 1 1/2-inch cubes
1/3 cup flour
1 teaspoon salt
1/4 teaspoon black pepper
~3 tablespoons oil
1 large yellow onion, diced (about 2 cups)
2 cups beef broth
1 bottle (11 oz) Trader Joe's Thai Red Curry Sauce
3 Japanese eggplants, cut into 1-inch cubes (about 6 cups)
additional salt and pepper to taste
Mix flour, 1 teaspoon salt and 1/4 teaspoon black pepper together in a plastic bag. Add cubed beef and shake until pieces are coated with flour. Save any excess flour. In large stock pot, over medium high heat, brown the cubed beef in batches using a tablespoon of oil at a time (meat does not need to be cooked through). Remove browned meat to a separate bowl as you finish browning the rest of the beef.
In same pot, over medium heat, saute onion in 1 tablespoon of oil, scraping up the brown bits from the bottom of the pot. Once the onions have softened and begun to turn translucent, add reserved flour and cook onions and flour together for a couple of minutes. Pour beef broth slowly into pot, stirring constantly to avoid lumps. Add the browned beef (and any juices that may have rendered out) and the entire bottle of curry sauce. Bring to a boil, then reduce heat to a simmer. Cover and simmer for 1 1/2 hours, stirring occasionally.
After simmering for 1 1/2 hours, add eggplant. Bring to a boil, reduce heat and simmer covered, stirring occasionally, for 45 minutes or until eggplant is tender. Adjust salt and pepper to taste. Serve over steamed rice.
Makes 6-8 servings.
(Originally posted on January 12, 2008)