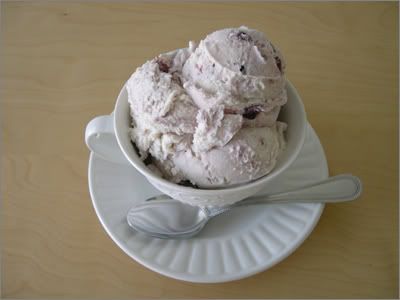 It's a cherry kind of holiday weekend. Breyers Cherry Vanilla Ice Cream is keeping me company. Deliciously free of chocolate chunks, thankyousoverymuch.
Next pattern for me to develop is a simple tea cozy. Concept has been worked out, still have to knit and write. I think I'm going to take a break before tackling that one though. Knit a couple of patterns from my Ravelry queue first.
Finished the
Claudia Hat
on Sunday. It only took a day and a half at a normal pace. Very happy with the pattern and will keep it for future use (pictures and full notes next week).
The leftover Patons Natural Marl from knitting the Scrunchable Scarf (write-up coming soon) is being put to use in my first attempt at Kool-Aid dying. The hank is drying now. Also did a test dye on Lion Wool-Ease. I'm curious to see how they both turn out.
Rest of today will be spent curled up with tea, watching
Becoming Jane
.
More pictures at Flickr