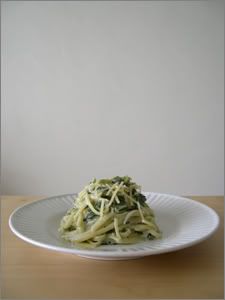 Creamed spinach has always been one of those pseudo vegetable side dishes. With all that cream and butter you can't really taste the spinach, but because it's green and has the word "spinach" in it you count it as a veggie.
I came up with this recipe as a healthier alternative. It has no added oil or butter. I like to use it as a pasta sauce and it also makes a good base for a lasagna filling and for spinach dip.
Creamed Spinach
2 10 oz. packages frozen chopped spinach, undrained
1 green onion, finely chopped
2 cups broth (chicken, vegetable or whatever compliments what you are serving)
1 8oz. package Neufchatel or cream cheese, in small chunks
1 teaspoon salt
1/4 teaspoon pepper
Pinch nutmeg
2-3 tablespoons cornstarch (depends on how thick you would like it)
1/4 cup water
In saucepan, over medium heat, combine broth, cheese, salt, pepper and nutmeg. Once mixture is boiling and cheese is mostly melted, add spinach and green onion and bring to a boil again. Make a slurry out of cornstarch and water, slowly add it to the spinach mixture and boil until thick. Adjust salt and pepper to taste.
Makes 8 servings.
*****
For a quick dinner I like to mix some creamed spinach with linguine noodles (as shown in the pictures). If you need protein you can add grilled chicken breast or steak. Sprinkle with some parmesan, quattro formaggio or other favorite cheese.
Lasagna filling: Mix half a recipe of the creamed spinach with a pound of ground turkey that has been browned with a diced yellow or white onion.
Spinach dip: Refrigerate a half recipe of the creamed spinach until well chilled. Combine spinach with 1 1/2 cups plain yogurt (or sour cream if you are feeling decadent), 1/4 cup finely diced yellow or white onion and 1 cup of grated carrots. Salt and pepper to taste.
While this recipe can be frozen, the spinach doesn't always keep its green color very well. If you do choose to freeze a portion, be sure to reheat it very thoroughly, otherwise it will have a curdled appearance.
More pictures at Flickr