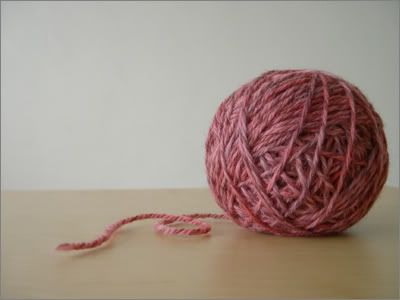 Last week I tried dying yarn with Kool-Aid for the first time. The tutorials at
Knitty
and
Keep On Knitting In The Free World
were my guides. I am pleased to say I managed to not make a mess or stain myself.
I tried the Kool-Aid dying on the leftover natural marl Patons Classic Merino (100% wool) I had from knitting the
Scrunchable Scarf
. The store didn't have many flavors/colors (no blues or greens), so I went with grape, black cherry and strawberry. I also did a test on some Lion Brand Wool-Ease (80% acrylic/20% wool) with the leftover Kool-Aid.
The Patons took the dye very well. The Kool-Aid even got rid of the nasty chemical smell that had plagued the skeins of Patons. The Lion took the dye too, though to a lesser degree. I knit swatches of each and after five handwashes, the Patons has stayed colorfast, but the Lion continues to bleed.
I'm not sure what I'll use this ball of yarn for; maybe a simple ribbed, black-striped scarf. I have ordered some plain yarn from
Knit Picks
to continue experimenting. Here are a few reminders for next time:
*Use the top part of the broiler pan (that allows for drainage) so that any dye that isn't immediately soaked up by the yarn doesn't pool on the underside of the hank and make muddied colors.
*When setting the color in the microwave, heat for 1.5 minutes, cool for 5 minutes. Do 2-3 cycles.
*Play around with my old Wiltons food coloring pastes and vinegar to dye the yarn.
*Try making self-striping yarn.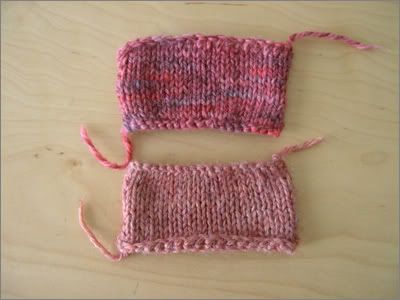 top: Patons; bottom: Lion
More pictures at Flickr