A few notes on some of the scarves I worked on towards the end of last year. Modifications to the patterns are noted.
*****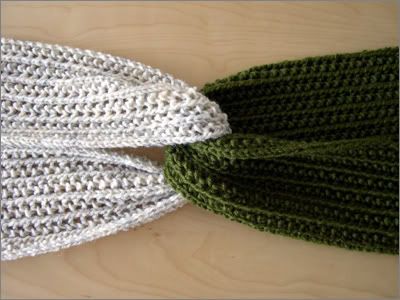 Enjoyable Rib Stitch Scarf
- Though very easy and repetitive, this scarf lived up to it's name. The
Enjoyable Rib Stitch Scarf
is cozy enough for Northern California winters. I cast on 26 sts on US sz 10.5s to get 5-inch wide scarves. Very quick to knit and I like that it has the open, lacework look without being strictly feminine.
*****
Palindrome Scarf
- Just as easy as the Irish Hiking Scarf *and* it's reversible. I made my
Palindrome
on US sz 10.5s and only did two cable repeats to make a skinny scarf.
*****
Karaoke Cable Scarf
- Had to bump up the levels on the picture to get the cables to show.
Karaoke Cable
was cute and easy. At the midway point, I switched the direction of the cables (shown in the above picture) so that when hanging around the neck, the cables would face in complimentary directions. And you guessed it, knit on US sz 10.5s.
*****
More pictures at Flickr