Either I am really late, or really early for Xmas, but I've been knitting the
Fun Fur Kitschmas Tree pattern
by Maryse. It's another one of those "throughout the year" projects I've given myself.
I've only knit with fun fur/eyelash yarn once before and I had forgotten that it can be a chore. It leaves my fingers a bit sore, especially when using yarns with metallic strands. However, once done, the trees are so pet-able. It's like you've got your very own muppet pelt.
Instead of the bulky weight Homespun that's suggested, I'm using cheapo worsted weight yarn (Red Heart, TLC, Caron). All the trees are made using Ice Eyelash, except for the red one which is made with Lion Fun Fur. The Lion yarn has longer eyelash strands, which makes for a shaggier tree. I attempted a "haircut" to try to make it look better. I personally prefer the Ice yarn (eyelash strands are about half an inch shorter than the Lion) since it makes a tidier looking tree. I'll probably just get some red Ice Eyelash and save myself the effort of further "haircuts".
Remember to fluff the tree when you're done. I gently "scratch" across the surface with the tip of a dpn to help pull the eyelash strands from between the stitches. I'm not going to do a permanent base because I like the idea of being able to stuff the tree (perfect use for plastic grocery bags) for display, and then unstuffing so it can be stored flat. Actually, the trees aren't even stuffed in these wip pictures. None of the trees have been decorated yet, but I have plenty of sequins that will be put to use for that purpose.
I am having fun knitting these. Very enjoyable. I'm happy that I am spreading the knitting over the entire year so that it really is a leisure activity, instead of a holiday rush situation.
Gold
-9.5 inches high and 6.5 inches in diameter at its base.
-Followed Maryse's pattern, but did 3 rounds between increases and purled the second to last round to prevent curling. Knit on US sz 10.5s, using ~2.5 balls (50g) of the Ice eyelash yarn.
-Undecorated, this one reminds me of a sad, dried-up tree a few months after the holidays.
Silver
-11.5 inches high and 7.5 inches in diameter at its base.
-Cast on 6 sts, knit one row as I-cord, divide stitches equally among 3 dpns, knit 2 rounds. *work increase round (kfb into the first and last stitch of each dpn, i.e. +6 sts), then knit 4 plain rounds; repeat from *. Purl the second to last round to prevent curling. Knit on US sz 10.5s, using 3 balls (50g) of the Ice eyelash yarn.
-I have a thing for tacky, tabletop, silver-tinsel xmas trees, so this one is a happy addition to my collection.
Red, white, green
-5.25 inches high and 3 inches in diameter at its base.
-Knit same as the silver tree, but using US sz 7s and ~.25 ball (50g) of the fun fur/eyelash yarn.
-Several more of these will be knit to use as little gifts, filled with candy or a small surprise, and with a cardstock or felt base to hold things in. Just think how cute it would be to give a tree to a friend with some earrings or a bracelet hidden inside.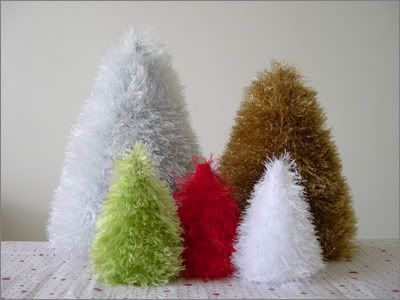 More pictures at Flickr