These little darlings were made about 3 years ago following
geobabe's Knitted Kitty pattern
. They pretty much keep to themselves in the closet these days, but I remember them fondly, since they were the first knitted toys I ever made.
Lady Crisco
- Sure, she *looks* innocent, but she has a psychopathic streak in her. She has a fondness for playing with Kuromame's guts.
Kuromame
- The mellowest kitten you'll ever meet. She'll let you pet her for hours. Maybe that's because she's kind of, well, dead.
Earl Grey
- He may seem a bit deranged, with his wonky eye, but he's perfectly harmless. A real sweetheart actually.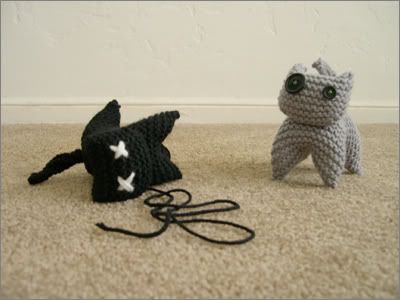 More pictures at Flickr