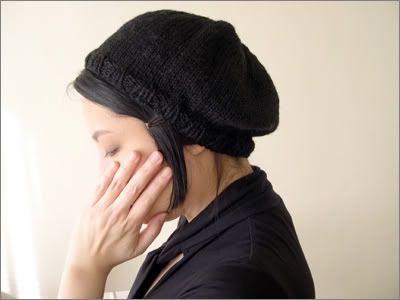 Some women are able to jump out of the shower, run a comb through their wet hair and walk out the door. When their hair dries, they end up looking effortlessly beautiful. I'm not one of those women. I need to blowdry, and then either straighten or curl if I don't want to commit a hair crime.
When I plan on staying in for the day, I just don't bother. Inevitably, on those days, I find that I need to make a quick trip to the store for that one forgotten item. That's when hats come in handy. However with my long hair it's difficult to tuck it all under a hat. Beanies don't work, nor do brimmed hats.
That's where Wendy Bernard's
Last Minute "Purled" Beret
(pdf link) comes to the rescue. I can pin up the bulk of my hair, wear the beret on the back of my head to cover the mess and go out in public without scaring small children.
I followed the option for the small-sized beret, but knitted it on US sz 10s. The other change I made was to knit for 5 inches (instead of 4.5 for the small size) before decreasing. I think I should have done 6 inches, for a bit more slouch. I prefer the stockinette side, so I won't be turning the hat inside out, as suggested in the instructions. A very quick knit that only took a few hours.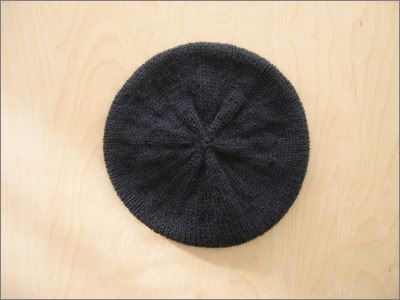 More pictures at Flickr