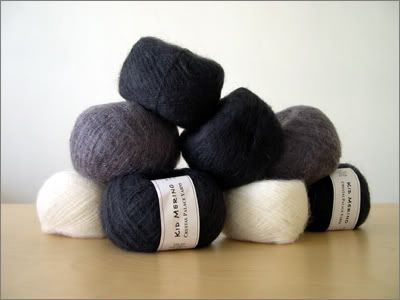 Look what I found tucked waaay in the back of the closet.
It must be almost 3 years since I bought these balls of Crystal Palace Kid Merino. I think I had just finished knitting
Branching Out
as a gift for my mother. My first attempt at lace, though I did it in worsted weight yarn. I must have been feeling rather proud of myself, thinking I should try knitting one for myself using lace weight yarn. Nothing like knitting with mohair for the first time to knock you down a few notches.
I remember needing to frog and quickly finding out that mohair does not rip out easily. Frustrated, I decided to give that a rest and move on to knitting
Arches & Columns
in the cream color. Holding two strands together should be a little easier to control, right? It was, but I soon lost interest when things seemed to be going so slow.
Finding this little stash makes me think that I should give the Kid Merino another try. Right now the plan is for the black to go towards Arches & Columns, and the smoke/charcoal grey will be for
Mist Lace
. Maybe use the cream held together with some other yarn for a skinnier version of the
Lace Ribbon Scarf
?