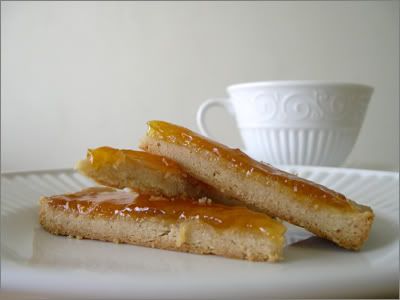 Just an "omgsogood" tip. Make your favorite shortbread recipe, adding a couple pinches of cinnamon to the dough. Ten minutes before the shortbread is finished baking, spread on some apricot jam and continue baking. Cut into wedges while still warm. Really wonderful with a cup of tea.
Could it be?! Will I actually knit my first non-accessory, wearable item this year? I added the
Lelah Top
(website seems to be down - try the
Wayback Machine
) to my Ravelry queue. I've been looking through the projects and reading the notes of what modifications people have made. I intend to give the pattern a try using some Caron Simply Soft before I decide to throw down some $$$ for cotton yarn. I'm a little concerned about the lace pattern. I don't like it when you can see skin and then jeans/skirt/pants through eyelets or sheer tops. I'm going to be trying to get away with using the 29-inch circulars (10.5s and 7s) I bought 5 years ago and haven't yet used. Hopefully the 7s will create a denser fabric, to avoid "show through" in the chest area (go double thick for the bust?). Maybe just line the whole thing.
New toy pattern coming within the next month or so. The concept is pretty well set and I've written the first draft of the pattern, so I should be able to test knit this weekend. I'm keeping what it is under wraps for now, but I will say that it's food related and it will, as usual, be a free pattern.