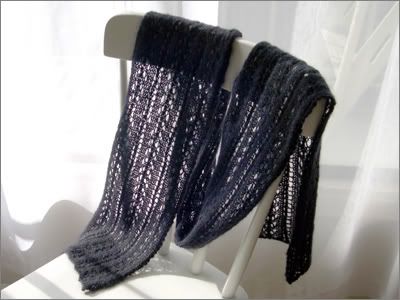 After a three year break, I gave
Arches & Columns
another try, and this time... success! I'm not sure why, but this time around things seemed to go a little quicker. Perception? Determination? Who knows, but it took me about ten days of unrushed knitting to complete (and that includes some time off to knit the Felicity hat).
I followed the recommendation to use US sz 7 needles. The pattern says to use two balls (ball = 25g/240yds) of the Crystal Palace Kid Merino held together (which I did) and that it will take 3/4 of each ball to to get a 55-inch long scarf. A full two balls gave me 45 inches. I used about half of two more balls to get to my desired length of 60 inches. The width of the scarf was 8 inches. All these measurements were taken pre-blocking. After a light blocking, I did get an additional 10 inches of length, but hardly any more width.
The pattern itself is quite easy. Just four rows, with two of those rows being straight purls. The right-side, knit rows are easy to memorize. I did make a few mistakes (additional yo or not doing a psso) that I didn't bother to go back and correct, but the pattern is quite forgiving and it's difficult to see the mistakes unless you are really scrutinizing the scarf.
The overall look of the scarf is refined, but not too girly. The lace pattern would look really lovely if it was made into a wrap. The scarf will look good with a professional skirt and sweater, but also will "chic" up a pair of jeans and t-shirt. The drape of this scarf is really wonderful. The Kid Merino is soft, light and not itchy. Perfect for the in-between seasons.
More pictures at Flickr