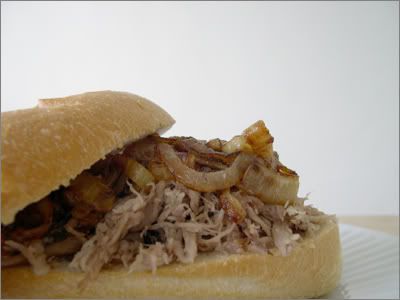 Growing up on the mainland, it was always a treat when relatives came to visit from Hawaii. They would bring the standard candies and t-shirts, but also foods like laulau, poi and kalua pig. Sure, chocolate covered macadamia nuts and neon yellow and red coconut balls were great, but it was that shredded pork that was like candy to me.
Though nothing quite replicates pork cooked in a traditional
imu
, this recipe satisfies my cravings. It's so easy. Waiting for it to finish cooking so you can dig in? Not so easy.
Faux Kalua Pork
~2-3 lb. pork shoulder roast
kosher salt (or Hawaiian salt, if you have it)
ground pepper
water
Preheat oven to 350F. Generously salt and pepper the roast on all sides. Place roast in roasting pan, fat side up, and fill pan with water to about halfway up the side. Cover pan with aluminum foil (cover tightly, don't leave a vent). Cook in oven for 1 hour at 350F, then reduce temperature to 300F and continue cooking for another 4 hours. Remove roast from oven and shred meat. Season meat with additional salt and pepper to taste.
~4-6 servings.
*****
This recipe freezes well so consider making two roasts since you'll have the oven on for such a long time. If freezing a portion, add some of the cooking liquid to the containers to keep the meat moist during reheating.
The cooking liquid can be used for broth. Strain the liquid, refrigerate, then scoop off the solidified fat. Use within a day or freeze. Remember to taste the broth for saltiness and adjust your recipe accordingly.
Add your favorite barbecue sauce for some delicious and messy sandwiches. Serve with fresh salsa and and a squeeze of lime on tortillas. I like mine with salt and pepper, topped with carmelized onions, on a french bread roll.
More pictures at Flickr