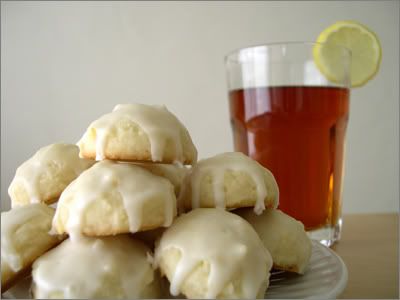 It's about time this blog lived up to its name and had another lemon recipe. These cookies are delicate, but pack a big lemony punch. The cookies themselves have good lemon flavor, but it's the icing/glaze that delivers the knockout.
Lemon Tea Cookies
Cookies:
1 cup unsalted butter, softened
1/2 cup confectioners sugar
4 teaspoons grated lemon zest
3 tablespoons lemon juice
1 1/2 cups all-purpose flour
3/4 cup cornstarch
1/4 teaspoon salt
Icing/glaze:
2 cups confectioners sugar
4-5 tablespoons lemon juice
a dash of salt
To make cookies:
Preheat oven to 350F. Cream butter, 1/2 cup confectioners sugar, lemon zest and juice. Sift together flour, cornstarch and salt. Mix flour mixture into butter mixture. Allow dough to sit for 10 minutes, then shape into 1-inch balls (or use a sz 70 cookie scoop). Place dough balls 1 inch apart on ungreased cookie sheet and bake for 15-18 minutes. Cookies will look pale on top, but bottoms should be a light golden brown. Cool on cookie sheet for about 10 minutes then transfer to wire wracks and cool completely before icing.
To make icing/glaze:
Mix confectioners sugar, salt and 3 tablespoons of lemon juice together until a smooth. Adjust thickness by adding more lemon juice. Spoon icing/glaze over cooled cookies and allow to harden before storing in an airtight container.
Makes ~45 cookies
*****
Substitute the lemon zest and juice with lime, orange and even grapefruit.
For a sturdier cookie, you can substitute granulated sugar for the confectioners sugar.
Switch out the lemon flavoring with...
-1 teaspoon vanilla extract, then roll the cooled cookies in confectioners sugar mixed with cinnamon. (akin to Mexican Wedding Cookies)
-1 teaspoon rum extract and add scant 1/4 teaspoon of nutmeg, ice/glaze with confectioners sugar and rum. (Egg Nog Cookies)
-1 teaspoon maple extract and add 1/2 cup of finely chopped walnuts, ice/glaze with confectioners sugar and maple syrup. (Maple Walnut Cookies)
-1 teaspoon mint extract and substitute 1/2 cup cocoa powder for 1/4 cup of cornstarch and 1/4 cup flour, drizzle cooled cookies with melted chocolate. Or substitute 2 tablespoons of fresh, finely chopped mint for the extract. (Mint Chocolate Cookies)
Size 70 scoop is the equivalent of 1 tablespoon.
More pictures at Flickr