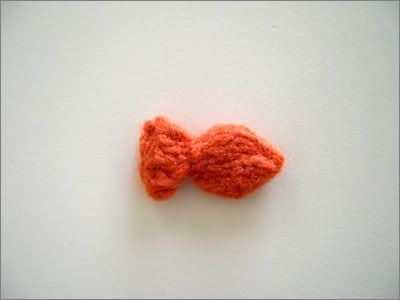 I'm easing back into non-olive knitting with something tiny: this
goldfish cracker pattern
from Kimberly Chapman.
Small as it is, this was actually a challenging thing to knit. I used my US sz 2 dpns for the first time (well, to actually knit something and not to just pick at eyelash yarn from between stitches). I could feel those things flexing as I struggled to knit the tiny stitches. I did use a worsted weight yarn, so that kept the stitches super tight too. The fish measure 1.25 inches from nose to tail, and .75 inches wide at its tail.
I didn't stuff the fish as recommended and left off the smile and eye. In reality I just couldn't get them to look right, but I'll just tell everyone that goldfish crackers didn't have those fancy facial features when I was a kid.