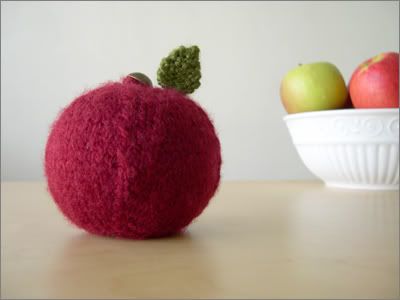 During the work week I try to eat at least one apple a day. I don't know if the "apple a day" thing is responsible, but I haven't had a really bad cold in at least the past 5 years (knock on wood).
Carrying the apple to work in my tote means it gets treated fairly carelessly, so the
Silly Apple Cozy
by Casey Newman was a nice solution to bruised fruit.
For my apple sweater I used bulky weight yarn and US sz. 7 needles. The pattern calls for 8s, but I don't have any. The density of the knit fabric is nice and thick, great for keeping the apple safe from bruises. I used a button instead of a knit bobble for the closure. For the leaf, I knit a larger version of the leaf from my "Cherries are the Bomb" pattern.
At first the sweater was a little tight on the giant apples I buy, but after a couple of days of use it loosened up a bit and fits nicely. Really cute pattern, and functional too!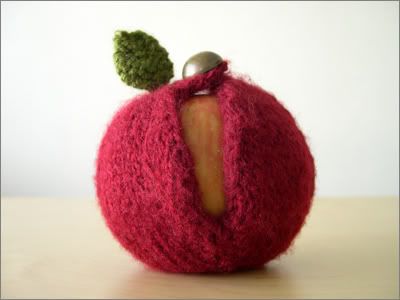 More pictures at Flickr